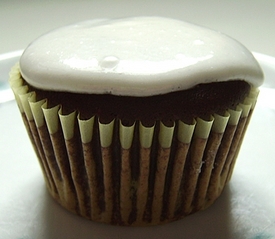 I'm fully aware that the day after St. Patrick's Day is not the time to start promoting anything even related to Guinness. But, hey, lift your dehydrated sack of bones off the floor, drink up some water, and get to cooking. These Guinness cupcakes sound delicious.

Thanks to Boing Boing for the original find, these cupcakes sound really good. Although Guinness is known for its rich bitterness, fear not with these cupcakes; the Guinness instead adds "richness and moisture, and balances the sweetness of the sugar." The cupcakes are also topped with a cream cheese glaze made to represent the mythologized foam that graces every pint glass full of Ireland's pride and joy.

Throw on an apron, make some cupcakes.